Kawaguchi Yoshikatsu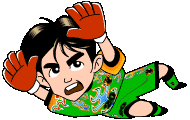 Kawaguchi Yoshikatsu, 15 August 1975 (borned), Shizuoka, Japan (birth place).
He's one of the best goal keepers in Japan. He began to play soccer when he
was in the third grade. He was inspired by his older brother, Yuichi, a soccer
player in the school. Yoshikatsu was good in catching and kicking far balls,
that's why he became goal keeper. He liked practicing than playing games,
When he was in the fourth grade, he became the regular goal keeper for he's
school team although the team consist other and sixth grade students.
When he was in the six grade, he decided to go to Toukai Daigaku Dai Ichi Junior
High School, because the school is well-known for playing soccer. Yoshikatsu was
also good in studying. He passed examinations and is always the top student
in he's class... or maybe also he's school!
When he was in the seventh grade, his team won the second prize for "The All
Japan Junior High School Soccer Championship". In the eighth grade, he
participated in "The All Japan Junior Youth Championship" and played for the
Kokuritsu Kyugijo (The National Ball Game Ground) for the first time.
In 1991, he entered Shimizu Shogyo High School. Of course, he's joined straight
away to the soccer team as a goal keeper. When he was in the twelfth grade,
he lead the team as a captain and his team won "The High School Soccer
Championship". This meant his team was the strongest team of high schools in Japan.
In 1994, he graduated from high school and joined the professional soccer team
"Yokohama Marinos", one of the reason is, Mr. Matsunaga (he's a good goal keeper
and Yoshikatsu admires him a lot). In 1995, Mr. Matsunaga left the team,
so Yoshikatsu became the goal keeper. In 1995, Marinos won the championship.
Yoshikatsu was also awarded as "The Best Freshman" and "Best Eleven".
In 1996, he participated in Atlanta Olympics as the goal keeper for the Japan team.
Japan had not been able to participate in Olympic Games for 28 years, because
Japan wasn't playing well in Asia. In Atlanta, Japan won against a powerful rival, Brazil.
In 1997, he participated in a provisional selection for the World Cup. The Japan team
fought a battle with many teams in Asia. Finally, they managed to participate in the
World Cup. When the 1998 World Cup started Japan had to battle with Argentina
(which was one of the champion candidates). Japan lost the game 1-0. In the next
game they were defeated by Croatia 1-0. In the final game, Nakayama Masashi called
"Gon" got Japan's first goal from Jamaica. Many Japanese fans were very pleased but
in the end they were defeated 2-1. Though the Japan team didn't win any games,
they could appeal to world. And Yoshikatsu received worldwide recognition.
References: "Goal ha Ore ni Makasero! 'Kawaguchi Yoshikatsu'"
written by Ohnuki Tetsuyoshi.
[ Nakata ] [ Football main page ]
---

-~-~-~-~-~-~-~-~-~-~-~-~-~-~-~-~-~-~-~-~-~-~-~-~-~-~-~-~-~-